Hey there,
have you already noticed? Cartier launched the new Panthère de Cartier two weeks ago!
Finally this 80s Must-Have piece is back in stores. I will give you some more information about this beautiful timepiece and you will soon know why I fell in love with it.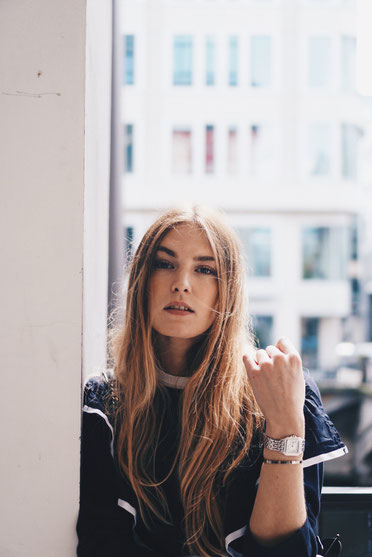 Thursday,  01.06.2017 -  A long time after the 80s the Panthère de Cartier Watch collection is relaunched and back in the stores. 
Honestly, I did not know this watch, when Cartier contacted me in April for a cooperation, because I am a 90s kid. But I was instantly blown away when they showed me the pictures - it was love at first sight. The Panthère de Cartier collection gained cult status three decades ago by turning the ladies watch into an aesthetic piece of jewelry.  
I've always wanted to wear something from Cartier, because I really adore this chic, classy and cool brand! Now a little dream has become reality and I have the honor to work with Cartier and wear this pretty watch. I am so happy.  
This new Panthère de Cartier collection comes in two sizes (22mm & 27mm) and is available in a variety of metals such as rose gold, yellow gold and silver. 
I chose the 22mm watch in gold, combined with the "Love bracelet" from Cartier in the same color.
For me it's very important that the jewelry I choose is timeless, especially when it's a high quality and luxury statement piece like this watch from Cartier.
The Panthère de Cartier is a watch for every situation! You'll never regret this buying when you're able to combine effortlessly to almost anything in your wardrobe! I am

certain that this beautiful and feminin timepiece comes back into vogue now!
I can't stop wearing it. It looks so iconic, trendy and cool.  Be sure - you will see a lot more pictures of it in my instagram feed.