Hey there,
why does holiday time always go by so quickly? Tomorrow is already the last day and when I'm thinking about home, about work and about autumn... I'm not ready to leave summer and holidays behind me. 
I have really not expected, that Barcelona overpowerd me that much! For me it was the perfect mix of late summer, city trip, culture, sun and beach. What could I want more?
The mediterranean lifestyle inspires me a lot. Spending the day outside, enjoying food, enjoying life (!!!!) 
The atmosphere – especially in the evening – was really nice. So much street music, lovely restaurants in beautiful little alleys. People seem to be happy and satisfied all the time. I'm sad, when I'm thinking about summer evenings in Germany. Because there was no summer at all. It just felt so good to be able to wear a dress even in the evening without getting cold. I can't believe that it's already atumn when we will return home.
Barcelona
---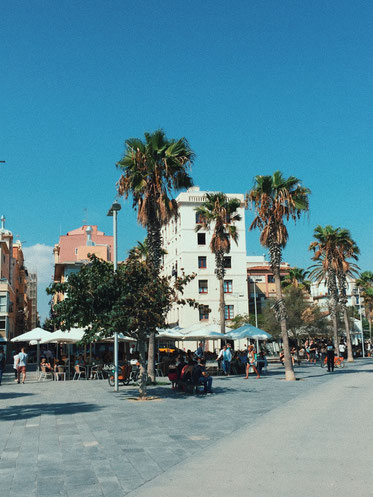 ---
Back to Barcelona:
We stayed in a very cute hotel called The Moods – which I can absolutely recommend. The hotel has 20 rooms, a nice balcony and is located very centrally. Not far from the beach, five minutes walk to my favorite restaurants and 5 minutes walk to go shopping :P 
Four days Barcelona sounds long for a city trip, but we haven't had the time to do everything you should have seen as a tourist.
At least we were at the Park Güell – the only part of sightseeing on this trip. I really love the architecture of Gaudí. And the view from the park over Barcelona was stunning. It was much nicer than on my pictures because it was a little bit dark and cloudy when we arrived. 
I haven't realized how many kilometers we walked in this time because everything around us was so beautiful and overwhelming. In the evening we realized it all the more when our legs hurt and we laid on the bed like dead.
The only thing:
I couldn't find many cafes where you could sit outside. They were more like little cute bakerys. The reason why we always went for breakfast to Al Sure Cafe, which was really good though.
If you haven't seen this city yet, you definitely need to plan a trip!
---