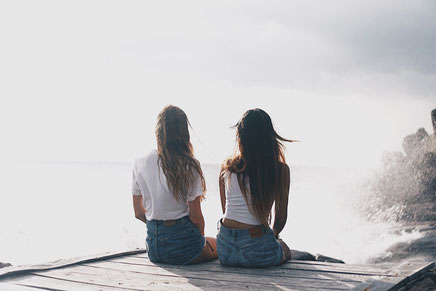 Hey there, this is my last post of our Sri Lanka trip as we are back in Germany. 
You really can't imagine how I feel about this after more than 3 weeks of sun, 30 degrees Celsius, lots of good food and the nicest beaches I have ever seen. But let's find out what we experienced in our last week of Sri Lanka.
After five days staying at our dream location, it was hard to imagine to find something similar, but in fact we did. Ok, not as good as Mirissa, but we found 3 pretty locations for the last week.
---
The first accommodation was located near to Unawatuna in Talpe and it was such a pretty location. We decided to go the Pittaniya Villa because of the amazing architecture, beautiful estate, and very good recommendations on the Internet. We booked this place with agoda.com. Our TukTuk driver who took us from Mirissa to the Villa did not know this place at first, but to me it seemed as if none of our TukTuk drivers ever knew where to go. They would just start to drive to the town and then they would ask other people. Most of the times we would arrive at the places very quickly. But this time nobody knew of this place. There were no signs on the road and the phone number did not exist. There was no chance to find this place and I was quite unsure what was going on. 20 minutes of driving through this little town we finally found someone who knew this place and told us the way. 
Having arrived there, Eric – the owner from Ireland of this 3 room resort – gave us a warm welcome but told us that the hotel was actually closed since december. He had tried to cancel our booking with agoda, but apparently it didn't work. He told us to stay at his place as friends and he didn't want any money as some of the facility was already packed in cartons. He was about to sell this place three days later and would go on to start a new life in Berlin. 
He showed us our room, made a very good coffee, chilled with us on the front porch and gave us a lot of good recommendations where to get some good food around. 
I think everybody knows the probably most popular palm tree of Sri Lanka and we could not leave without taking a picture there. Eric knew this place and told us it is just about one kilometer from his place at the Dalawella Beach. We decided to go there directly since I was so happy having found this place. 
Against all odds this place was not crowded at all, only two kids were playing with the rope. 
After 5 minutes waiting it finally was my time to jump on the rope and go for some pictures. I am honest with you, it is not as easy as it may look on the pictures. The rope is very rough and burned my hands. I was very happy to get the perfect pictures very quickly. Such a dreamy location. 
Have you ever seen a baby turtle? I haven't either until this day. It was such a big dream for me, so we decided to go to the beach another early morning. On our previous walks we have never seen any turtle but only some body prints of the turtles. 
This time we encountered body prints again, but no turtles. Still we had a wonderful sunrise at the beach and then we were about to go back to Eric to get some breakfast. Suddenly, we saw a really tiny baby turtle right on its way from the beach to the sea. I promise you, I have never seen something cute like this. :) Such a wonderful experience I will never forget.
I hope he is gonna make it in the wide ocean – keep going, Buddy!
We had such a good time here at this location, but unfortunately we soon had to leave to our last location in the jungle. Altough Eric told us he wouldn't charge us for the stay, we decided to give him some money to get some beers, when he would arrive in Germany. We also wrote him a letter because he was still asleep when we left. 
Our last location was in the jungle in Galle – the perfect retreat from the hustle of the city, perfect for the last days of our trip.
 The Villa Amma Erna has 3 rooms and we booked the room "akka" with such a wonderful view into the trees, a lovely bathtub, and windows without glass but just a net for the mosquitos. You really feel the jungle vibe. The sound of all those animals living there was such a great experience and we woke up to the screaming of the monkeys every morning. We really enjoyed staying there. I loved the open architecture, the tranquility, and the wild nature of this resort.
We decided to do nothing the next day. We would just relax at the pool with good food and drinks during the day and in the evening we went to Galle Fort, which is a 15 minutes drive from the villa. It was such a culture shock since we haven't seen a lot of tourists the last weeks, but then suddenly all the tourist were just there. :D Anyways, we had some good food here at Galle Fort, found a really tasty and healthy restaurant. We enjoyed our avocado sandwich and smoothies at Calorie Counter. Also, it was a good place to get some souvenirs for our beloved family.  
We also met Eric from the Pittaniya Villa again accidentally. He was so thankful for our little letter and the gesture with the money for his first beers. He told us that he had finally sold the villa and would leave to Germany in some days. The owner of the Villa is now a Sri Lankan guy, so it was maybe opened again. I really recommend you going there even though I don't know how the atmosphere with the new owner is now. But this place was such a comfort stay.
OUR LAST DAY :(
Unfortunately it was already the last day of our trip. I guess everything has to come to an end, but personally I was very sad about it. Our flight back was scheduled to 4 o'clock the next night, so we still had the whole day to enjoy Sri Lanka. We had to check out at the Villa Amma Erna at 11 a.m. and they offered us to stay at the hotel. We decided to go to Unawatuna for the last hours – Eric told us about a very good restaurant and bar to chill at with good food and drinks. We arrived at the Kingfisher Unawatuna, which was a really nice place. The staff was very helpful – they got us a taxi to the airport for the night and stored our luggage. The perfect place to end our trip. We chilled the whole day at the beach lounges and had a very good lunch and dinner. If you ever go there, try the watermelon feta salad and the Mango Lassie – best one I had in Sri Lanka. :) Also, Margox from the staff was very helpful. She told us about a hidden place, where you can see the perfect sun dawn. We went there and she did not promise too much: The sun slowly disappearing behind the horizon while feeling the water from the waves spraying down on my skin.Luckily there were no clouds at all. This sun dawn will be in my memory forever. It was like in the movies. :)
The flight back was a lot better. We had one hour in Abu Dhabi, one hour in Munich, and arrived in Hamburg very quickly. Hey Hamburg, thanks for welcoming us with your rain, wind and cold. 5 Minutes back in grey Germany and already missing Sri Lanka - I WANT TO GO BACK....