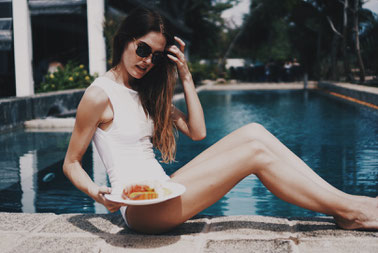 Hey there, sunny greetings from this truly paradise! 
We are in Mirissa right now, but first of all I want to continue my journey from my last blogpost. We left our resort with a TukTuk again. It took us 2 1/2 hours to go all the way back to Tangalle, close to our first stay. We were aware of that, but we had to take this detour since we wanted to visit the Yala National Park. Did you know that there are two different prices for the same route? :D You have to negotiate a lot here in Sri Lanka like anywhere else in Asia, otherwise you will pay much more.
---
In Tangalle we stayed at the Villa Tangalle Lagoon for 4 days this time. Our villa had a private pool, we could jump into the pool from our bed right away. I never had something like this before and we were very pleased having decided to stay here for 4 days.
Not only our apartment was great, the resort was great as well: Amazing food, the Tangalle Beach, and only 150 meters to Tangalle City with such a wonderful fruit market and the best coffee so far. We went to this cute place every day as I am such a coffee junky as you know. Even though this place was really nice and we had some good coffee, we knew what was ahead of us. That is why we were so excited going to Mirissa, where we booked the real paradise. 
ARRIVING AT PARADISE !
Now we are finally here. This lovely place was love at first sight and the first hotel we had booked. When you look at the pictures, you know what I mean and understand that I do not exaggerate. :) This hotel is the most expensive one on our route, but we decided to do something special on valentines day and the birthday of my boyfriend. The Lantern Collection consists of three parts, the Lantern Boutique Hotel, the Ubuntu Boutique by Lantern, and Lantern Villas.  We stayed at the Boutique Hotel for the first three nights. We did not leave this Hotel simply because we had everything right there: good tasting fruit smoothies, the best food, nice places to chill and relax, and the best beach I have seen so far. I truly recommend this place and will come back here for sure some time.
We have always started the day with a lovely breakfast with a fruit plate, cappuccino, toast with jam, and omelette. After breakfast, we went to the beach or stayed in the big hammocks between the beach and the pool, so you can decide where to go. :)  Lunch and dinner was also really good. I dont know if they have a five stars chief, but I have never eaten that good in Germany. :D
On valentines day we had a 6 course menu, which was incredible. We were so happy having booked this hotel even though it was a little expensive. Anyways, this evening was really amazing. We even won a spa voucher for one hour because they select us as "The best loving valentines couple". :) 
Ubuntu by Lantern
The remaining two days we stayed at the Ubuntu by Lantern, which was even more comfortable. We had a stunning beach view and our apartment was really luxury with a bathroom I would die for. Never have I had such a great view from the bathtub. :) This place even had a piano playing music while we would hear the waves and looking at the sea – absolutely amazing.
For my boyfriend's birthday I planned something special. I looked up the best beaches in town, lovely restaurants, the best spa and a lovely place for seeing a sun dawn. Unfortunately this plan went wrong. Our hotel offered a seafood BBQ that day and my boyfriend asked me to participate and stay all day at our place as he didn't want to leave paradise. Of course I said yes – it was his birthday, but I also thought it was a good idea. We paid so much money for this hotel and when I planned it at home I couldn't know that we would already stay right at the best beach with the best food and a spa voucher. :D Anyways, it was a good idea to stay, we had a very relaxing day with nice spa treatments and a perfect seafood BBQ right at the beach. Later in the evening, the whole staff and chiefs came to our table and brought my boyfriend a big birthday cake singing "Happy Birthday". It was so cute. A perfect stay! :)
Unfortunately we will leave this place today. I could stay here forever though. We will move on to Galle, where we will stay the last week of our trip. 
Will update you as soon as possible. Stay tuned :)